My Pal Scout Smarty Paws™
Toy of the Year 2022 finalist - Plush category!
Cuddly, caring and customizable, this lovable puppy can be customized with your child's name and favorite things.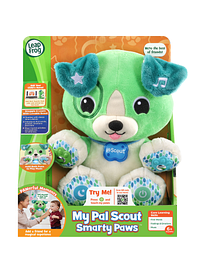 My Pal Scout Smarty Paws™, Quick Start Guide
Curriculum: Various
Publisher: LeapFrog
Details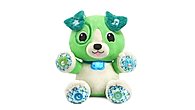 Cute, cuddly and customisable, My Pal Scout Smarty Paws™ makes the perfect friend for your little one. Touch-sensitive front paws feature sensors that begin silly reactions, music, games and mindfulness exercises when little ones hold both paws and stops when they let go to introduce cause and effect. Scout's paws can help create magical moments for kids and caregivers when they hold hands with each other and the toy adding an interactive experience everyone will love. Personalise the play and learning across more than 15 activities by programming Scout with the child's name, favourite food, colour and animal. Scout will introduce your child to first words, counting, and feelings and emotions. He'll even teach your child how to spell their own name! Scout's ears and back paws also have little surprises. Press Scout's ears to play 40+ songs, lullabies, and melodies, or to explore games and activities. His right back paw button activates nighttime mode that plays soft lullabies for 5, 10 or 15 minutes to help soothe little ones to sleep.

Easy to personalise
Connect Scout to your smart phone, tablet or computer for easy personalisation while he's still in the box!

Program the child's name and favourites
Your child's new BFF can say their name and favourite food, colour and animal.

Hold Scout's touch-sensitive paws
Grasping both front paws activate mindfulness exercises and playful surprises. Add a friend to explore cause and effect activities.

Interact and respond to Scout
Kids will love playing with their soft, snuggly best friend and hearing 325+ songs, sounds and phrases.

Press his ear button
Listen to a playlist of 40+ songs, lullabies and tunes.

Squeeze Scout's star button
Play learning games that introduce first words, animals, counting, mindfulness and emotions.

Press Scout's back right paw button
Start nighttime mode for 5, 10 or 15 minutes of quiet, soothing lullabies.

Light-up collar
Watch Scout's collar light up in time with the sounds and music, then glow softly with the lullabies.


Minimum System Requirements
Internet connection (high-speed connection recommended)
Smartphone, tablet or computer with 3.5mm headphone jack
Internet Browser Requirements
PC: Microsoft Edge (latest version), Chrome™ browser (latest version), or Mozilla Firefox (latest version)
Mac Computer: Safari® browser (latest version), Chrome™ browser (latest version), or Mozilla Firefox (latest version)
iOS: iOS version 10 or higher with Safari® browser (latest version)
Android ™: Android version 8.0 or higher with Chrome™ browser (latest version)
Teaches
Skills
Counting
Feelings & Emotions
First Words & Phrases
Mindfulness
The Learning Difference
"My Pal Scout Smarty Paws™ introduces a variety of early learning concepts from numbers to routines and music. As a loyal learning buddy, Scout prompts kids to interact with him socially and encourages them to talk and sing along to build early language skills." Clement Chau, Ph.D., LeapFrog Learning Expert