Ironing Time Learning Set™
Motion-activated iron and play clothes set teaches colors, numbers and shapes with a friendly iron that talks to kids as they play.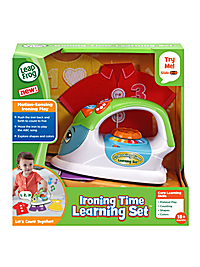 Ironing Time Learning Set™, Shirt, Shorts, Dress, Quick Start Guide
Details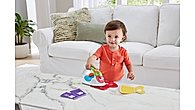 This motion-activated adorable iron responds with songs, silly phrases and sound effects when the iron is moved back and forth. Press three buttons to learn numbers, colours and shapes and hear interactive phrases and questions. Three clothes items are included for colourful pretend play.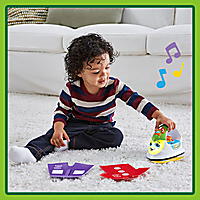 Iron Away and Play!
Pretend to iron out the "wrinkles" on the included play clothes. The iron lights up to show each colour and knows when it is tilted up.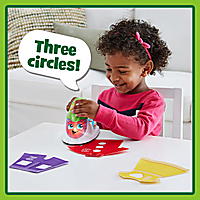 Press and Explore
Press the learning buttons to play 10+ activities that introduce colours, shapes and numbers. Count to five or sing along to the alphabet song!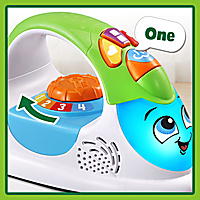 Dial Up the Fun
Turn the temperature dial to hear about numbers and temperature settings. Listen to realistic steam sound effects while the colours change.
Teaches
Skills
Colours
Counting
Numbers
Pretend Play
Shapes
The Alphabet
The Learning Difference
"The Ironing Time Learning Set™ encourages pretend play while exploring cause and effect through motion-activated sound effects, learning songs, and counting. The iron's buttons and dial and the included clothes encourage learning about numbers, colors and shapes." Pamela G., Ph.D., LeapFrog Learning Expert