Log Jam Maths
Use maths skills to help quick-witted beavers outsmart Park Ranger Randy.
Type: Learning Game
Curriculum: Mathematics
Works With: LeapPad Academy, LeapPad Ultimate, LeapPad Jr., LeapFrog Epic Academy Edition, LeapFrog Epic, LeapPad Platinum, LeapPad3, LeapPad Ultra, LeapPad2, LeapPad1
Publisher: InLight Media
Details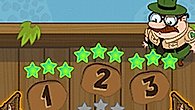 Overview
Swim into action with the River Rascals, and try to outsmart Ranger Randy in 18 levels of fast-paced white water maths fun!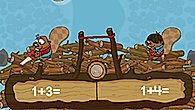 The Slinger
Fling logs and barrels at Ranger Randy's bridge, and collect badges for big bonus points.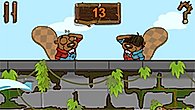 Power-ups
Play Plug the Holes, a mini-game that tests speed and skill in a race against time to plug the holes in a leaky dam.
Teaches
Skills
Addition
Counting
Multiplication
Number Recognition