Littlest Pet Shop: Lights, Camera, Action!
Russell relaxes, Blythe loathes her personality clone and Sunil swaps places with a star. (104-minute video)
Type: Just for Fun Video
Curriculum: Just for Fun
Works With: LeapPad Ultimate, LeapPad Jr., LeapPad Platinum, LeapPad3, LeapPad Ultra, LeapPad2, LeapPad1
Publisher: Hasbro Studios
2012 Hasbro Studios LLC.
Details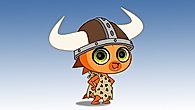 Included episodes
Russell Up Some Fun
Lights, Camera, Mongoose!