Learning Friends 100 Words Book™
Touch and learn word fun with adorable animals!
Discover new vocabulary with fun learning friends! Touch the words on each page to hear the animals introduce every word in both English and French.
Curriculum: Vocabulary
Publisher: LeapFrog
Details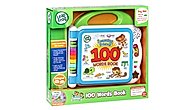 Touch and Learn
Press the pictures on each page to hear the animals say toddler-appropriate words chosen by learning experts.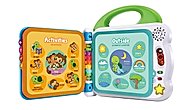 Three Play Modes
Pages play words, exciting sound effects and fun facts.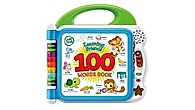 Star Button
Press the light-up star button to hear two learning songs including the Learning Friends theme song and My Favorite Word song.
Teaches
Skills
Animals
Body Parts
Colours
English
First Words & Phrases
Food & Nutrition
Nature
Opposites
You can't check out from this locale.
Please make sure you are shopping in the App Centre where you're located. To switch to another country, use the links in the footer.
Welcome to LeapFrog
You are currently visiting the United Kingdom LeapFrog site, which doesn't appear to match your current location. For this reason, some features, such as checkout, may not be available to you.

To switch to a different locale, click the country link in the footer and select a different country.