Learning Friends Preschool Adventures: Panda's Play Time!
Enjoy a day of sporty fun at the stadium with the Learning Friends. Make healthy choices and build good habits to get ready for the big game. Then, team up and play ball!
Type: Learning Game
Curriculum: Life Skills
Works With: LeapPad Jr., LeapPad3, LeapPad Ultra, LeapPad2
Publisher: LeapFrog
Details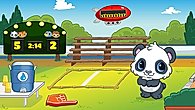 Overview
Play Panda Ball with the Learning Friends and learn how to exercise healthy habits.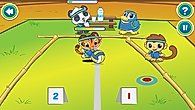 Play as a team
Work as a team to kick the ball across the field. Be sure to give players water breaks to keep them hydrated and rested.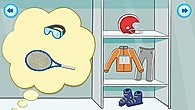 Score big on safety
Help Monkey choose the correct gear for each sport. Learn why equipment, like helmets and shin guards, is important.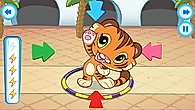 Warm up with Tiger
Play a memory game to help Tiger warm up for the big game! Tap arrows in the correct order to help her stretch.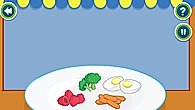 Eat right with Penguin
Sort snacks into food groups to build energy for the Panda Ball game.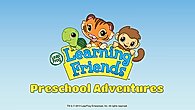 About the series
The Learning Friends Preschool Adventures suite of titles (sold separately) helps children gain essential preschool skills through play.
Teaches
Skills
Food & Nutrition
Health & Hygiene
Memory
Safety Routines
The Learning Difference
"Learning Friends Preschool Adventures: Panda's Play Time! introduces children to healthy physical and eating habits in a fun, relatable way. As children explore different sports or food items, they also learn about basic safety tips. More important, this game helps children learn about the importance of making healthy choices." –Clement C., PhD, Learning Expert