LeapTV™ Sports! Educational, Active Video Game
Enter a whole new arena of sports fun with favourite LeapFrog characters! Bowl, block, chop, swing and swim through nine active games. Team up with a friend or play along with Leap, Lily, Tad and the whole crew.
Be a sports star and appear on-screen: LeapTV puts your child right in the game.


Number of Players: 1-4

Number of Controllers: 1

Child appears on-screen. This game includes 2-4 player turn-based gameplay. (Multiplayer feature requires a single controller.)
Type: Active Learning Game
Curriculum: Mathematics
Notable: Child appears on-screen; Multiplayer feature
Works With: LeapTV
Publisher: LeapFrog
Body Motion, Pointer Play, Classic Control
Details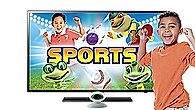 Overview
Get up and play nine sports with favourite LeapFrog characters. Put mathematics in motion: it all adds up to active fun!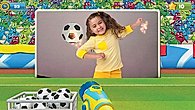 Super Goalie
Jump into the goal to block number-line-powered shots. The more balls blocked, the higher the score!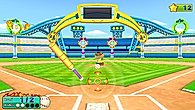 Baseball Bash
Step up to the plate and hit a home run! Power up the bat with subtraction skills.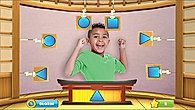 Karate Time
Chop, kick and roundhouse fast-moving boards and blocks. Clear the screen by recognising the correct 2D and 3D shapes.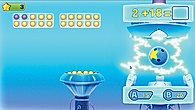 Bowling Super Strike
Knock down pins to get points—aim for a spare or a strike! Use addition skills to power up the bowling ball.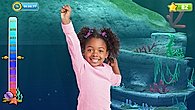 Swim to Win
Swim to the surface by comparing number sets, percentages and fractions. Dodge underwater creatures and collect tokens!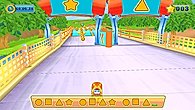 Skateboard Rush
Steer the skateboard toward the right gate to complete a pattern or number sequence. Then, skate across the finish line.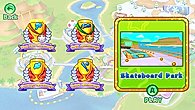 Sports Challenges
Practise favourite sports one by one, or play a variety and compete to win medals in four LeapFrog Sports Cups!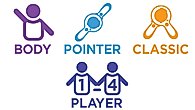 Ways to Play
Use body motion to block, dive, chop and climb—appear on TV! Use the controller to skate, and swing it to bowl and bat.
Teaches
Skills
Addition
Number Recognition
Patterns
Shapes
Subtraction
The Learning Difference
"The mathematics curriculum automatically adjusts to each child's learning level, from recognising numbers and comparing sets to skip counting and comparing fractions. Nine different sports provide opportunities to practise a variety of mathematics skills." — Pamela G., PhD, LeapFrog Learning Expert
Internet connection may be required for programming update.