Tappin' Colors 2-in-1 Xylophone™
Experience a rainbow of music with light-up xylophone keys and a removable tambourine. Colors, numbers, music styles and instruments add learning to musical play.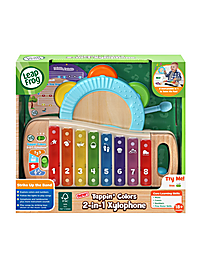 Tappin' Colors 2-in-1 Xylophone™, Quick Start Guide
Curriculum: Various
Publisher: LeapFrog
Details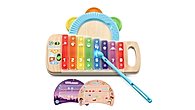 Get two instruments in one with the Tappin' Colors 2-in-1 Xylophone™! Bring learning to musical exploration with four interactive ways to play. Help kids build confidence as they follow the lights to learn how to play eight well-known tunes. Hear first words about numbers and colors, or play notes to hear xylophone, glockenspiel and strings sounds. Jam along to nine original tunes! Hand the removable tambourine to a friend, then tap the xylophone with the mallet and play together. Two double-sided music cards and eight light-up keys make it a snap to tap out a tune. Tuck the music card into the tambourine, and the tambourine into the xylophone, for a handy-dandy music stand. When playtime is done, the mallet attaches to the bottom of the xylophone, and the music cards store in the tambourine. This product is made with 100% FSC®-certified (FSC-C113128) wood that comes from well-managed forests. Find more downloadable sheet music at leapfrog.com/xylophone.

Two-in-One Play
Music play includes a xylophone and a removable tambourine that doubles as a music stand.

Colors and Numbers Mode
Strike each key to see it light up and say its color and number.

Instrument Sounds
Play xylophone, glockenspiel and string instrument sounds along with nine original tunes.

Games
Play eight tunes by following the lights on the xylophone keys.

Jam Along
Improvise or play along to the included tunes, by yourself or with a friend.

Music Cards
Use the mallet to follow the notes on the two double-sided music cards to play well-known songs.

Even More Music
Expand the fun and learning with more downloadable sheet music available at leapfrog.com/xylophone.

Motor Skills
Practice hand-eye coordination and fine motor skills with musical play..


Teaches
Skills
Colors
Fine Motor Skills
Music & Rhythm
Numbers
The Learning Difference
"The Tappin' Colors 2-in-1 Xylophone™ offers four play modes to explore basic skills like numbers and colors and creative play like open-ended instruments and follow-along games. Children hear and associate numbers and musical tones with the notes they play to reinforce cause and effect. With guided play, children can learn to play familiar children's tunes, fostering confidence and independence." Clement Chau, Ph.D., LeapFrog Learning Expert