On-the-Go Story Pal™
Cute, bunny-shaped audio player includes stories, poems, songs and lullabies that kids can take anywhere for screen-free entertainment.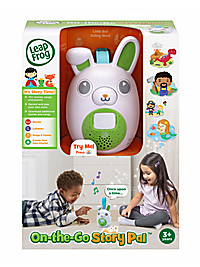 On-the-Go Story Pal, Instruction Manual
Curriculum: Various
Publisher: LeapFrog
Details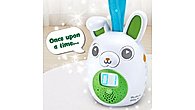 Build a love of stories and develop pre-reading skills with the On-the-Go Story Pal! This travel-size bunny will become children's new favorite companion. Spark imagination and an interest in reading with stories, songs and poems, lullabies and relaxing classical music. Download additional stories and songs for more story time adventures!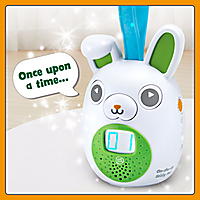 Ready to Read
Build vocabulary and comprehension skills with 70+ stories, poems, songs and lullabies.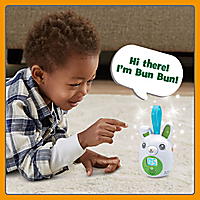 Spark Imagination
Listen to character voices, cinematic music and sound effects that brings stories to life.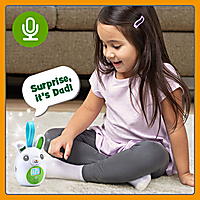 Record a Story
Record your own voice reading children their favorite story or song or create something original for a playback surprise.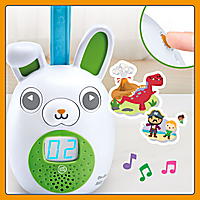 Create a Playlist
Pick up to five favorite stories and songs to build a playlist of their own.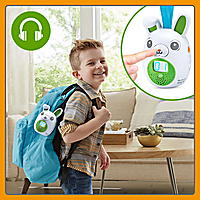 Kid-Friendly Controls
Large, easy-to-navigate controls are simple to use. Take the player anywhere with the included carrying strap and headphone jack. (Headphones not included.)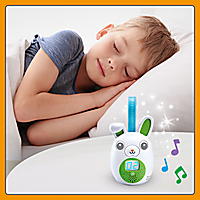 Time for Bed
Choose the number of stories to play before the bedtime pal automatically turns off.
Teaches
Skills
Listening Comprehension
Storytelling
The Learning Difference
"With expressive reading and fun sound effects, the On-the-Go Story Pal device is designed to help children recognize that hearing stories read aloud is an enjoyable activity. Listening to stories develops listening comprehension and builds vocabulary by helping children learn new words and hear how they are pronounced." Carolyn James, Ph.D., LeapFrog Literacy Expert