Learning Lights Letterbug™ (Walmart Exclusive)
A de-LIGHT-ful Way to Learn Letters and Colors!
Press Letterbug's antenna for a musical light show that teaches colors and more with exciting sounds and phrases.
Curriculum: Language & Literacy
Publisher: LeapFrog
This product emits flashing lights at 3-60 cycles per second.
Details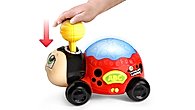 Color-changing light
Press the yellow antenna and the letterbug will change colors to teach the colors red, yellow, green and blue.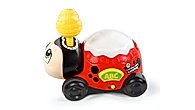 ABC button
Letterbug's letter song introduces all 26 letter names and sounds.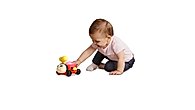 Roll and rock
Push Letterbug around to build motor skills while listening to fun learning songs.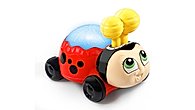 Pretend play
Explore color names with Letterbug and pretend it's a red fire truck, blue ocean or yellow space ship.
Teaches
Skills
Colors
Gross Motor Skills
The Alphabet
Word Building
The Learning Difference
"Learning Lights Letterbug™ teaches colors and letters in a fun, imaginative way. With every push of the toy, the Letterbug changes colors and introduces the alphabet. Letter songs expose young children to the sounds that letters make and lay a critical foundation for their developing language skills." - Clement Chau, PhD, LeapFrog Learning Expert