Details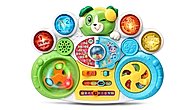 Remix learning songs and drop some educational beats with the Learn & Groove® Mixmaster Scout™. This musical toy includes 30 funky background tracks little DJs can scratch over and remix using the turntable and the light-up spinner. When pressed, each button says the instrument name, introduces numbers and colors, and adds cool sounds to the music. They can also watch the light-up instrument buttons flash to the beat. As the music plays, Scout raps about letters, numbers and colors. Stop the music by turning the page and Scout will rap a capella. Intended for ages 9+ months. Requires 3 AAA batteries. Batteries included for demo purposes only, new batteries recommended for regular use.

Turntable spinners
Add cool sound effects and phrases to the music using the letter turntable and number spinner.

30 funky tracks
Three modes - each one features 10 different funky background tracks.

Instrument buttons
Press the light-up instrument buttons to add sound effects and explore instrument names, numbers and colors.

Scout the rapper
Explore three modes and listen to DJ Scout rap letters, numbers and colors.


Teaches
Skills
Colors
Counting
Numbers
The Alphabet
The Learning Difference
"Engaging musical play stimulates infant's sensory skills. With the large array of interactivity on the Learn & Groove® Mixmaster Scout™, Scout invites your child to press, dial, flip, and slide various manipulatives to exercise their developing fine motor skills, all the while discovering fun cause and effect relationships and exploring a wide variety of musical sounds." Clement Chau, PhD, LeapFrog® Learning Expert