LeapStart® Pre-K STEM with Teamwork 30+ Page Activity Book
Use STEM (Science, Technology, Engineering and Math) skills to help Leap, Lily and other Letter Factory characters on a mission to make things work. Teaches 16 pre-kindergarten STEM skills including reading simple graphs, experimenting with trial and error, using tools to solve problems and more.
Type: Book
Curriculum: Science
Works With: LeapStart 3D, LeapStart Preschool Success, LeapStart Go, LeapStart, LeapStart Preschool & Pre-Kindergarten, LeapStart Kindergarten & 1st Grade
Details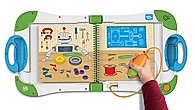 Overview
Join Leap and friends in a world of robots, tools and gadgets as they explore what makes things work in 40+ replayable STEM activities.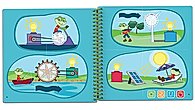 Energy & electricity
Create energy from wind or solar power and then save the day by generating electricity at a soccer stadium.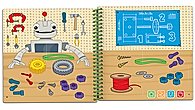 Build a machine
Help Professor Quigley build a sound machine by "clipping" wires and "screwing in" screws.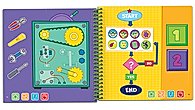 Early coding skills
Program a sound machine to make unique sounds using a flowchart and simple coding skills.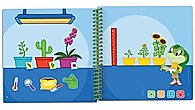 Grow a garden
Learn about sources that generate light, and experiment with sun and shade, using scientific approaches to help grow a healthy garden.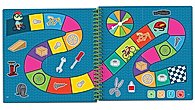 Build a bike
Work in Tad's Bike Shop and select the parts customers need to put together a custom bike.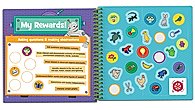 Plus 25+ interactive rewards stickers
Includes 25+ interactive reward stickers that are earned for mastering activities.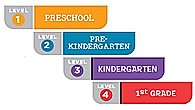 About the series
The LeapStart library is a leveled series that grows from Preschool (Level 1) to 1st Grade (Level 4) (sold separately).
Dimensions
Product dimensions: 18.8Wx17.9Hx1.8D
Product weight: 0.27 kg
Teaches
Skills
Forces & Motion
Making Observations
Plants
Problem Solving
Teamwork