LeapStart® Kids' World Atlas with Global Awareness 30+ Page Activity Book
Embark on a journey around the world exploring landmarks, cultures, animals and more —all from the unique point of view of kids. Teaches 13 geography and global awareness skills including use of maps, identifying continents, cultural differences, sharing and more.
Type: Book
Curriculum: People & Places
Works With: LeapStart 3D, LeapStart Preschool Success, LeapStart Go, LeapStart, LeapStart Preschool & Pre-Kindergarten, LeapStart Kindergarten & 1st Grade
Details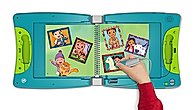 Overview
Travel the globe exploring landmarks, transportation, food, parties, toys and more with 30+ replayable activities.
Explore landmarks
Learn about key landmarks and race the clock to test your geography skills.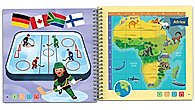 Get in the game
Play a hockey game in Canada and "pass" the puck from player to player, then cheer for the country's flag.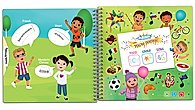 Celebrate birthdays
Plan parties around the world – learning about songs, games and food used to celebrate birthdays.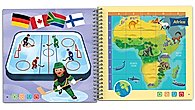 Animal diversity
Enter Africa to discover the diversity of animal life living on the continent.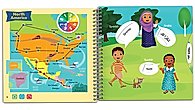 Plus interactive language spinner
Use a language spinner to learn words and phrases in 6 languages – including Mandarin, Swahili and Spanish.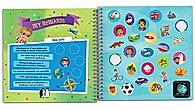 Plus 25+ interactive rewards stickers
Includes 25+ interactive reward stickers that are earned for mastering activities.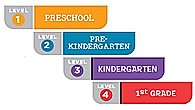 About the series
The LeapStart library is a leveled series that grows from Preschool (Level 1) to 1st Grade (Level 4) (sold separately).
Dimensions
Product dimensions: 18.8Wx17.9Hx1.8D
Product weight: 0.32 kg
Teaches
Skills
Customs & Holidays
Landmarks & Famous Places
Map Skills
World Geography
World Languages