LeapStart® 3D Learn to Read Volume 1
Build confidence while encouraging a love of reading with this six book set.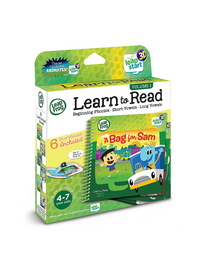 Six learn-to-read books
Type: Book
Curriculum: Phonics
Works With: LeapStart 3D, LeapStart Preschool Success, LeapStart Go, LeapStart, LeapStart Preschool & Pre-Kindergarten, LeapStart Kindergarten & 1st Grade
Publisher: LeapFrog
Details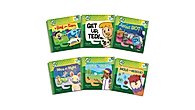 Learn to Read Volume 1 uses the LeapStart® learning system to build reading confidence through six engaging books with leveled learning. Children can read engaging stories with colorful pictures and interactive pages. Tap the pictures, individual letters and words with the stylus to magically bring the books to life and then enhance the learning with amazing 3D-like animations when played with LeapStart® 3D. These books help build early reading skills, including short and long vowels. Most pages feature Say It, Sound It and Spell It icons. Touch an icon and a word on the page to hear each word, listen to the word sounded out or have the word spelled out to hear the letter names. Continue the learning fun with Learn to Read Volume 2 for more advanced words and stories (sold separately).

This book talks!
Build reading confidence through six engaging storybooks with interactive pages.

Animations bring the books to life
Enhance the learning with amazing animations when played using LeapStart® systems with a screen.

Say it
Allows your child to hear each word.

Sound it
Helps your child recognize letter sounds in words.

Spell it
Lets your child hear how a word is spelled.

Words in this story
Interactive Words You're Learning spreads include activities that preview words in the story.

Stories for early readers
Each book focuses on short or long vowels and builds upon phonics principles from previous books.

About the series
The LeapStart® library is a leveled series that grows from preschool through 1st grade (additional books sold separately).


Teaches
Skills
Beginning Phonics
Grade Level Sight Words
Identify Main Character and Events of a Story
Identify Word Families
Learn How Print and Books Work
Regular Consonants
Short and Long Vowels
Words With a Silent E
The Learning Difference
"With LeapStart 3D, children engage with real books packed with activities to build key skills from counting and problem solving to phonics and vocabulary. LeapStart 3D adds a new dimension to learning as children can visualize the meaning of words and learn about shapes and geometry concepts with 3D-like animations." - Carolyn James, PhD, LeapFrog Literacy Expert