Details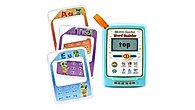 Get a head start on reading with the ABC Phonics Word Builder™! The innovative sound slider feature helps children understand what letters sound like and how sounds blend into words. Practice phonics skills, spelling and vocabulary while exploring 250+ words. Games and activities bring the concepts to life through entertaining play that reinforces learning. Three double-sided activity cards can be inserted into the word builder to learn about vowel sounds, consonants and words. Watch words turn into lively animations when kids sound out the word correctly! Slide into spelling with this unique learning tool. All activity cards attach to the toy with the included strap. Includes volume and screen contrast controls.

Sound out letters
Use the sound slider to hear letter sounds.

Blend sounds into words
Combine sounds into words, letter by letter.

Learn with three activity cards
Add to the learning with three double-sided activity cards that reinforce learning.

Play in six game modes
Each mode introduces unique learning experiences in phonics, spelling and words.

Explore 250 + words
Watch words turn into animated objects with sound effects as you spell each word correctly.

Adjust settings
Set the volume and control the contrast on the screen with adjustable settings.


Teaches
Skills
Letter Sounds
Letters
Logic Skills
Phonics
Spelling
The Learning Difference
"The ABC Phonics Word Builder™ helps children map letters to their sounds. Using the slider to blend letter sounds into words, children can also recognize that words are made up of individual sounds and start building the phonics skills they need to be successful readers." Carolyn James, Ph.D., LeapFrog Learning Expert