T-Rex Rush: Egg Spelling Collection Crew
Go on a dino-mite spelling adventure with Ty and friends, finding runaway flying dinosaur eggs!
Type: Learning Game
Curriculum: Reading
Works With: LeapPad Academy, LeapPad Ultimate, LeapPad Jr., LeapFrog Epic Academy Edition, LeapFrog Epic, LeapPad Platinum, LeapPad3, LeapPad Ultra, LeapPad2
Publisher: LeapFrog
Details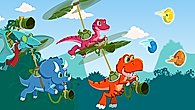 Overview
Let out a mighty roar as you rescue flying baby dino eggs and send them back to their families using spelling skills.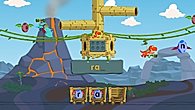 15 levels of fun
Progress through gameplay and build spelling skills with words that have increasingly complex spelling patterns.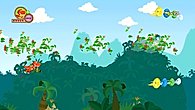 Egg-cellent fun
Fly through prehistoric skies to collect runaway eggs, avoid obstacles and spell your way to the next level!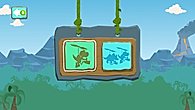 Multiplayer action
Team up with a friend! Collect letter eggs to spell words while your friend prevents other dino eggs from escaping.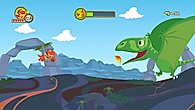 Prehistoric power
Collect power-ups like a mango shooter, helmet and super roar—then launch mangos to feed a boss dino blocking the way!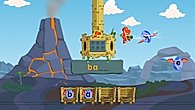 Spelling challenges
Collect letter eggs to spell 3-letter words; advance to sight words, compound words, and words with complex spelling patterns.
Teaches
Skills
Consonants & Blends
Sight Words
Spelling
Vowels