Peter Rabbit: Rabbit Rescues!
Tune in to see how the furry friends retrieve stolen firewood, rescue Peter's little sister, save a party, escape McGregor's garden, find a missing birthday cake and help Peter outsmart the predators.
Type: Learning Video
Curriculum: Life Skills
Works With: LeapPad Ultimate, LeapPad Jr., LeapPad Platinum, LeapPad3, LeapPad Ultra, LeapPad2, LeapPad1, LeapTV
Publisher: Viacom
Details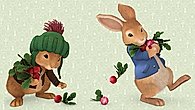 Included episodes
The Tale of the Stolen Firewood / The Tale of the Runaway Rabbit
The Tale of Jeremy Fisher's Recital / The Tale of True Friends
The Tale of Cotton-tail's Cake / The Tale of the Terrible Trap
Teaches
Skills
Self Esteem
Social Skills
©2015 Viacom International Inc.