PAW Patrol: To the Lookout!
Need the PAW Patrol? Just yelp for help in these six pup-tacular rescues as the dogs save Cap'n Turbot's boat, Farmer Yumi's crops, a baby owl, a baby monkey, Ryder's runaway robot and even Rubble himself! (69-minute video)
Type: Learning Video
Curriculum: Life Skills
Works With: LeapPad Academy, LeapPad Ultimate, LeapPad Jr., LeapFrog Epic Academy Edition, LeapFrog Epic, LeapPad Platinum, LeapPad3, LeapPad Ultra, LeapPad2, LeapPad1, LeapTV
Publisher: Viacom
2014 Viacom International Inc.
Details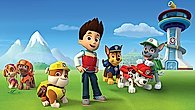 Included episodes
Pups Make a Splash
Pups Fall Festival
Pups Save A Super Pup
Pups Save Ryder's Robot
Pups Save a Hoot
Pups Save a Monkey
Teaches
Skills
Helping Others
Neighborhoods & Communities
Problem Solving