Letters on the Loose Ultra eBook
Join a wacky word adventure as things go haywire at the Letter Factory.
Type: Interactive Storybook
Curriculum: Reading
Works With: LeapPad Ultimate, LeapPad Jr., LeapPad Platinum, LeapPad3, LeapPad Ultra, LeapPad2, LeapPad1
Publisher: LeapFrog
Details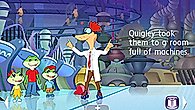 Overview
LeapFrog friends Tad, Leap, Lily and Professor Quigley come to life on every page of this Ultra eBook adventure.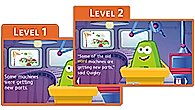 3 reading levels
The story is written at three different levels, which progress from simple text to more complex words and sentences.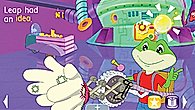 Sound out words
Touch words to hear them sounded out and watch what happens when a new computer goes haywire.
Teaches
Skills
Phonics
Reading Comprehension
Sight Words
Vocabulary
The Learning Difference
Ultra eBooks allow kids to engage with the story in multiple modes. Kids may choose to explore text that is above their recommended level, allowing exposure to richer language and more sophisticated sentences while promoting listening comprehension.