LeapFrog Learning Songs
Inspire little ones to sing along to five songs that teach the alphabet, vowels, rhyming and phonics skills.
Type: Music
Curriculum: Music
Works With: LeapPad Academy, LeapPad Ultimate, LeapPad Jr., LeapFrog Epic Academy Edition, LeapFrog Epic, LeapPad Platinum, LeapPad3, LeapPad Ultra, LeapPad2, LeapPad1
Publisher: LeapFrog
Details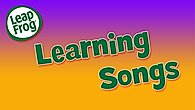 Included songs
Punc, Punc, Punctuation
Sticky Icky Vowels
The Blends Rock
Hop, Hop, Hop
The ABC Song
Teaches
Skills
Phonics
The Alphabet
Word Sounds & Rhyme
Important: This app is already pre-loaded on your LeapPad2 Explorer. All purchased music will automatically download to your Music Player App.