(French) Le pique-nique des Roulis
Roule, vrille, et secoue ta chenille Rouli dans les 36 niveaux de labyrinthes et prépare-toi aux défis d'orthographe pour récupérer de la nourriture pour le pique nique ! Utilise tes connaissances des lettres et de phonétique pour continuer à rouler dans la bonne direction ! Incline ta tablette pour éviter les obstacles et secoue-la pour te sortir des pièges.
Type: Learning Game
Curriculum: Spelling
Works With: LeapPad Platinum, LeapPad3, LeapPad Ultra, LeapPad2, LeapPad1
Publisher: LeapFrog
Details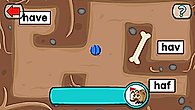 Overview
Navigate your Roly Poly through 36 levels of mazes and spelling challenges to gather food for the picnic!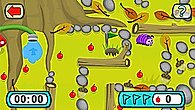 Hands on fun
Tilt your tablet to navigate your course, practice letters and phonics to keep it rolling and shake it to get unstuck.
Teaches
Skills
Consonants & Blends
Phonics
Sight Words
Vowels