(French) Élastisinge
Aide Elastisinge à apporter de la nourriture à sa famille en retrouvant les pairs et les suites logiques à travers plus de 20 niveaux de jeu captivant… Utilise l'écran tactile du LeapPad pour étirer ton ami le singe, puis lâche le et regarde le voler à travers la cime des arbres !
Type: Learning Game
Curriculum: Patterns
Works With: LeapPad Platinum, LeapPad3, LeapPad Ultra, LeapPad2, LeapPad1
Publisher: LeapFrog
Details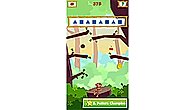 Overview
Help Stretchy Monkey bring food to his family by solving matching and pattern problems.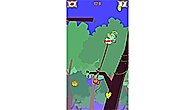 Fun with physics
Use the LeapPad touch screen to stretch out your monkey friend, then let go and watch him fly through the treetops!