(French) L'alphabet en cuisine
Le jeu L'alphabet en cuisine est parfait pour apprendre l'orthographe des mots ! Joue épelle plus de 500 mots de 3 à 4 lettres. Touche les lettres pour épeler tous les mots sur les listes ou trouve le plus de mots possibles ! Teste tes compétences seul ou challenge un ami avec le mode à 2 joueurs.
Type: Learning Game
Curriculum: Spelling
Works With: LeapPad Platinum, LeapPad3, LeapPad Ultra, LeapPad2, LeapPad1
Publisher: LeapFrog
Details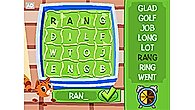 Overview
Serve up spelling and word-building fun while-add 500+ three- and four-letter words to your child's vocabulary.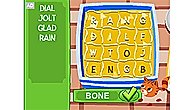 Recipe for success
Touch letters to spell all the words on each list. Or stir up as many words as your child can find in free search!
Teaches
Skills
Spelling
The Alphabet
Vowels
Word Building