Chuggington: Chug Patrol Ready to Rescue!
Trainees Wilson, Brewster and Koko face tough challenges and put their new found skills to the test in a series of rescues. Can Wilson prove he is the hero of the rails?
Type: Just for Fun Video
Curriculum: Just for Fun
Works With: LeapPad Ultimate, LeapPad Jr., LeapPad Platinum, LeapPad3, LeapPad Ultra, LeapPad2
Publisher: Ludorum
Details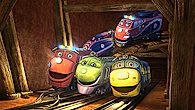 Included episodes
Chug Patrol Ready to Rescue Special
Fearless Wilson
Chief Wilson
All episodes of Chuggington® are produced and distributed by Ludorum plc, Copyright © 2015, All Rights Reserved. Chuggington® is a registered trademark of Ludorum plc.