Wonder Pets: Teamwork Time!
Team up with the Wonder Pets on six animal rescue adventures. (71-minute video)
Type: Just for Fun Video
Curriculum: Just for Fun
Works With: LeapPad Ultimate, LeapPad Jr., LeapPad Platinum, LeapPad3, LeapPad Ultra, LeapPad2, LeapPad1, LeapTV
Publisher: Viacom
© 2013 Viacom International Inc. All Rights Reserved.
Details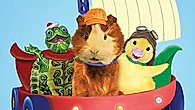 Included episodes
Save the Caterpillar / Save the Crane
Save the Cow / Save the Skunk
Save the Swan / Save the Puppy