Wonder Pets: Save the World!
Join the Wonder Pets for 6 super rescues! Save a tree in the city, an elephant in Kenya, an egg at the park, a flamingo in a coloring book, a chameleon in Madagascar and a platypus in Australia! (71-minute video)
Type: Just for Fun Video
Curriculum: Just for Fun
Works With: LeapPad Ultimate, LeapPad Jr., LeapPad Platinum, LeapPad3, LeapPad Ultra, LeapPad2, LeapPad1
Publisher: Viacom
© 2013 Viacom International Inc. All Rights Reserved.
Details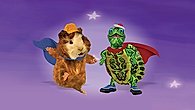 Included episodes
Save the Tree! / Save the Elephant!
Save the Egg / Save the Flamingo!
Save the Chameleon! / Save the Platypus!