The Adventures of Paddington Bear: Travel Adventures
Go on 9 travel adventures with the loveable little bear who can't stay out of trouble! (69-minute video)
Type: Just for Fun Video
Curriculum: Just for Fun
Works With: LeapPad Ultimate, LeapPad Jr., LeapPad Platinum, LeapPad3, LeapPad Ultra, LeapPad2, LeapPad1
Publisher: DHX Media
©1997-1999 CINAR Productions (2004) Inc., a subsidiary of Cookie Jar Entertainment Inc./Protecrea/Canal J. All rights reserved.
Paddington™ and Paddington Bear™ are trademarks of Paddington and Company Limited. DHX Cookie Jar Inc. All rights reserved.
Details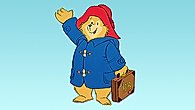 Included episodes
Adventure at the Seaside
Paddington and the Pyramid Selling
The Finishing Touch, Paddington in a Hole
Paddington in the Galapagos
Paddington Strikes a Bargain, Sticky Time
Corporal Paddington
Paddington Buys a Share.