SpongeBob SquarePants: All Hands on Deck!
Get all hands on deck to watch SpongeBob's upside-down world spin out of control. (70-minute video)
Type: Just for Fun Video
Curriculum: Just for Fun
Works With: LeapPad Academy, LeapPad Ultimate, LeapPad Jr., LeapFrog Epic Academy Edition, LeapFrog Epic, LeapPad Platinum, LeapPad3, LeapPad Ultra, LeapPad2, LeapPad1, LeapTV
Publisher: Viacom
© 2013 Viacom International Inc.
Details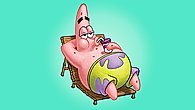 Included episodes
Patrick SmartPants
SquidBob TentaclePants
Greasy Buffoons
Model Sponge
SpongeBob's Last Stand