SpongeBob SquarePants: 20,000 Leagues of Laughs!
Patrick tries being an ad man and an artiste, but discovers that jobs are hard work. (70-minute video)
Type: Just for Fun Video
Curriculum: Just for Fun
Works With: LeapPad Academy, LeapPad Ultimate, LeapPad Jr., LeapFrog Epic Academy Edition, LeapFrog Epic, LeapPad Platinum, LeapPad3, LeapPad Ultra, LeapPad2, LeapPad1
Publisher: Viacom
© 2013 Viacom International Inc. All Rights Reserved.
Details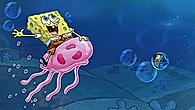 Included episodes
Chum Bucket Supreme
Single Cell Anniversary
Sweet and Sour Squidward
The Googly Artiste
The Masterpiece
Whelk Attack