Solar Taxi
Navigate the Solar System at warp speed and learn about astronomy!
Type: Learning Game
Curriculum: Astronomy
Notable: Motion sensor
Works With: LeapPad Academy, LeapPad Ultimate, LeapPad Jr., LeapFrog Epic Academy Edition, LeapFrog Epic, LeapPad Platinum, LeapPad3, LeapPad Ultra, LeapPad2, LeapPad1
Publisher: LeapFrog
Details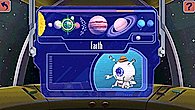 Overview
Race through 12 cosmic levels-picking up and dropping off passengers in this fast-paced, action-packed game.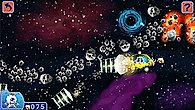 Daring adventure
Tilt and turn to collect space ore and dodge asteroids and vortexes as you explore planets, comets and more.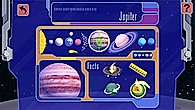 Lots to explore
Each new route will take you to a different area of the galaxy where you'll complete challenges and learn fun facts.
Teaches
Skills
Earth & Space Science
Making Observations
Thinking Like a Scientist