Pinky Dinky Doo and the Super Spaghetti Knot
When Pinky's younger brother Tyler plays video games all day, he misses out on the fun. Then, Mr. Guinea Pig protests his dirty cage by running away. Later, Pinky and Mr. Guinea Pig's tightrope goes missing from the Great Big Circus, and a bad hair day threatens to ruin Pinky's class picture!
Type: Learning Video
Curriculum: Listening
Works With: LeapPad Academy, LeapPad Ultimate, LeapPad Jr., LeapFrog Epic Academy Edition, LeapFrog Epic, LeapPad Platinum, LeapPad3, LeapPad Ultra, LeapPad2, LeapPad1
Publisher: Sesame Workshop
Details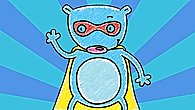 Included episodes
Tyler's Too Cool Game / Come Home, Little Guinea Pig
Pinky and the Super Spaghetti Knot / Back to School is Cool
Teaches
Skills
Listening Comprehension
Vocabulary
©2006 Sesame Workshop. All Rights Reserved.