Mickey Mouse Clubhouse
Move and groove to party songs from Walt Disney Records and Disney Junior!
Type: Music
Curriculum: Just for Fun
Works With: LeapPad Academy, LeapPad Ultimate, LeapPad Jr., LeapFrog Epic Academy Edition, LeapFrog Epic, LeapPad Platinum, LeapPad3, LeapPad Ultra, LeapPad2, LeapPad1
Publisher: Disney Music
Details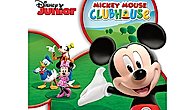 Included songs
Mickey Mouse Clubhouse Theme
Mousekedoer
Mickey's Countdown
Daisy Bo Peep Has Lost Her Sheep
Donald Went A-Courtin'
Your Library
A Mouse Like Me
Oh Where, Oh Where Has My Little Dog Gone?
A Bicycle Built For Two
Party At Mickey's House
Twinkle, Twinkle Little Star
Beautiful Dreamer
Blow The Man Down
Muffin Man
Clubhouse Birthday Party
Technology
Mousercise
Hot Dog!