Mary Poppins Soundtrack
When Mary Poppins, a nonsensical nanny, transform the lives of her charges from terrribly boring to wonder-full, happy songs are sure to follow! Rediscover the 17-song soundtrack, featuring Julie Andrews and Dick Van Dyke.
Type: Music
Curriculum: Just for Fun
Works With: LeapPad Academy, LeapPad Ultimate, LeapPad Jr., LeapFrog Epic Academy Edition, LeapFrog Epic, LeapPad Platinum, LeapPad3, LeapPad Ultra, LeapPad2, LeapPad1
Publisher: Disney Music
Details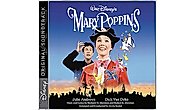 Included songs
Overture
Sister Suffragette
The Life I Lead
The Perfect Nanny
A Spoonful of Sugar
Pavement Artist
Jolly Holiday
Supercalifragilisticexpialidocious
Stay Awake
I Love to Laugh
A British Bank
Feed the Birds (Tuppence A Bag)
Fidelity Fiduciary Bank
Chim Chim Cher-ee
Step In Time
A Man Has Dreams
Let's Go Fly a Kite
Walt Disney Records 1997 Disney Enterprises, Inc.