Learn to Read 3 eBook: The Fix-It Kid
When Leap gets a shiny new tool kit, there's no end to what he can fix! See how many things need his handy touch while learning about the short i vowel sound.
Type: eBook
Curriculum: Reading
Works With: LeapPad Ultimate, LeapPad Jr., LeapPad Platinum, LeapPad3, LeapPad Ultra, LeapPad2, LeapPad1
Publisher: LeapFrog
Details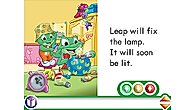 Overview
Explore words and touch pictures to hear surprises about the many things that need Leap's handy touch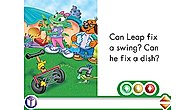 Winning short "i"
The short vowel "i" has it! See it, say it, sound it and learn words and fun rhymes you can create.
Teaches
Skills
Phonics
Sight Words
The Alphabet
Vowels