Disney Music: Children's Favorites Volume 1
Gather up the whole family for a classic collection of songs sung with the Disneyland Children's Sing-Along Chorus. These 30 timeless American tunes appeal to kids and grownups alike.
Type: Music
Curriculum: Just for Fun
Works With: LeapPad Academy, LeapPad Ultimate, LeapPad Jr., LeapFrog Epic Academy Edition, LeapFrog Epic, LeapPad Platinum, LeapPad3, LeapPad Ultra, LeapPad2, LeapPad1
Publisher: Disney Music
Copyright © 2013 Disney Enterprises, Inc. All rights reserved.
Details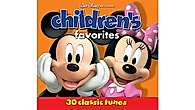 Included songs
If You're Happy and You Know it
Shoo, Fly, Don't Bother Me
This Old Man (Knick-Knack Patty-Whack)
I've Been Working on the Railroad
Three Blind Mice
Oh, Susanna!
The Man on the Flying Trapeze
The Blue-Tail Fly (Jimmy Crack Corn)
The Mail Must Go Through
Home on the Range
It Ain't Gonna Rain No More
A Bicycle Built for Two
Mary Had a Little Lamb
Take Me Out to the Ball Game
Friends Lullaby
Old MacDonald
The Hokey Pokey
She'll Be Comin' Round the Mountain
Ten Little Indians
The Green Grass Grew All Around
In The Good, Old Summertime
Animal Fair
Row, Row, Row Your Boat
I'm A Policeman
Pop! Goes the Weasel
Dixie
Twinkle, Twinkle, Little Star
A Hunting We Will Go
Down in the Valley
Good Night, Ladies
Internet connection may be required for programming update. Images represent gameplay only. Actual gameplay and visual quality may vary.