Code Word Caper: Talking Words Factory 2
Sing along to word-building songs and learn the rules of building complex words. (36-minute video)
Type: Learning Video
Curriculum: Word Building
Works With: LeapPad Academy, LeapPad Ultimate, LeapPad Jr., LeapFrog Epic Academy Edition, LeapFrog Epic, LeapPad Platinum, LeapPad3, LeapPad Ultra, LeapPad2, LeapPad1, LeapTV
Publisher: LeapFrog
Details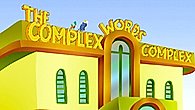 Silenced by E!
Journey through the Complex Word Complex with Leap, Lily and Tad to help Mr. Websley recover his voice.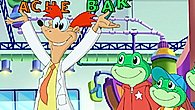 Go word wild
Learn along as the kids blend letters and build words to solve the code and save the day.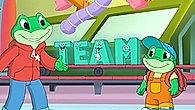 Sing along
Humorous songs add to the fun and help teach the rules for advanced word-building.
Teaches
Skills
Phonics
The Alphabet
Word Building
The Learning Difference
Spelling begins with short vowel sounds (cap) and long vowel sounds (with silent e, cap becomes cape). Finally, children learn the rules and patterns of vowel pairs (ee), digraphs (ai in train), diphthongs (oi in boil) and R-controlled vowels (farm).