Chuck & Friends: Volume 3
Four fun-filled episodes! The friends dig for treasure, but get stuck in the hole.
Type: Just for Fun Video
Curriculum: Just for Fun
Works With: LeapPad Academy, LeapPad Ultimate, LeapPad Jr., LeapFrog Epic Academy Edition, LeapFrog Epic, LeapPad Platinum, LeapPad3, LeapPad Ultra, LeapPad2, LeapPad1
Publisher: Hasbro Studios
2010 Hasbro Studios LLC. All rights reserved.
Details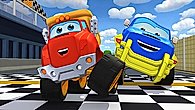 Included episodes
Digging Deep / Lights, Cameras, Trucks!
Special Delivery / Buffing Up