Busytown Mysteries: Where's the Hero?
Help Huckle and the Busytown animals solve six mysteries filled with life lessons and surprises. (73-minute video)
Type: Just for Fun Video
Curriculum: Just for Fun
Works With: LeapPad Ultimate, LeapPad Jr., LeapPad Platinum, LeapPad3, LeapPad Ultra, LeapPad2, LeapPad1
Publisher: DHX Media
Busytown Mysteries™ and all related and associated trademarks are owned by DHX Cookie Jar Inc. and used under license from DHX Cookie Jar Inc.
© 2013 DHX Cookie Jar Inc. All Rights Reserved
Details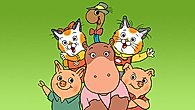 Included episodes
Where's Junior? / The Secret Club Mystery
The Playground Mystery / The Crazy Clock Mix-Up Mystery
The Cheese Car Chomp Mystery / Where's the Hero?